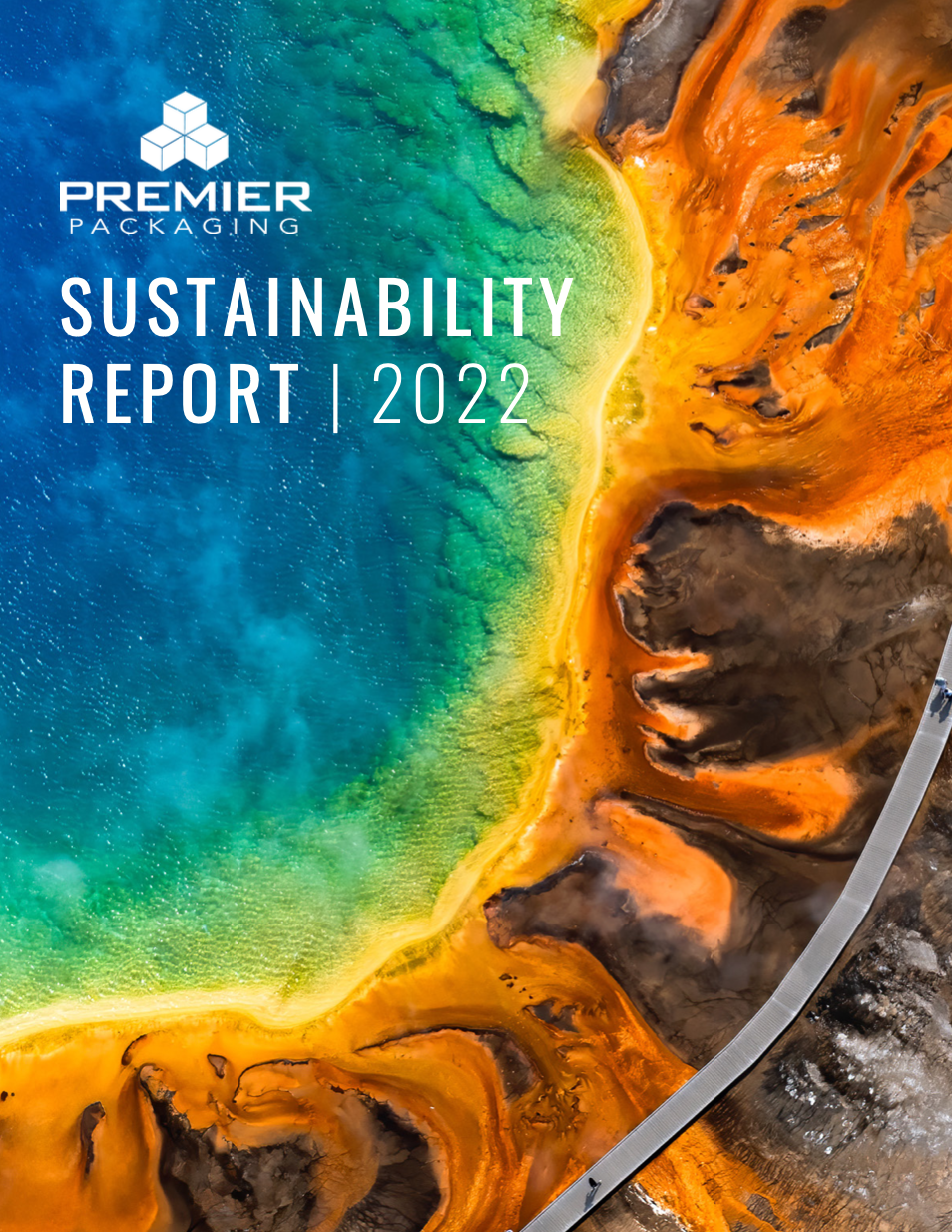 Premier Packaging has released our 2022 Sustainability Report, our first comprehensive review of our company's efforts to practice sustainability and our progress toward such goals as net-zero carbon emissions by 2040.
"Sustainability is important to our customers and our employers—it is a vital part of how we function," write Premier's co-owners Jill and John Gaynor in the opening message. "For 30 years, Premier has operated with sustainable principles, but many of our processes were never formally documented until the publication of this report. From our manufacturing to the methodology of how we sell, all things lead back to sustainability."
The pandemic brought Premier's mission into greater focus. In addition to protecting our people, we began to make bigger moves to protect our planet as we saw what impact fewer emissions could have. To reach our goal of being net-zero by 2040, for example, we are tracking emissions across our operations and working to reduce our environmental impact in our buildings, transportation, and operations.
The 2022 Sustainability Report explores, in depth, progress toward our goals for fostering a sustainable planet. These include:
achieving zero waste in all Premier's manufacturing facilities by 2030
mapping Premier's entire water footprint by 2026
becoming nature-positive, i.e., a regenerative company
engaging suppliers and customers to achieve peak sustainable performance, and
leaving a positive impact in the communities where Premier operates.
Because achieving these goals would be impossible without a sustainable workforce, the report examines Premier's employees, from diversity, equity, and inclusion efforts to training and wellness programs. The report also shows how we are having a positive impact in communities through our philanthropic efforts, from volunteering at a food bank in Phoenix, Arizona, to working to increase the tree canopy in Louisville, Kentucky.
Premier has joined several organizations and received several certifications that illustrate our commitment to sustainability. For example, our Corporate Distribution Center and Headquarters in Louisville is Energy Star-certified, and we offer Forest Stewardship Council and Sustainable Forestry Initiative certifications to ensure that our packaging comes from responsibly managed forests.  
We realize these are the first steps toward audacious sustainability goals. We are always looking for more sustainable options from our sources and suppliers. We are developing more advanced sustainable methodologies and products that we can bring to our clients. And we will keep refining our operations for maximum efficiency, to lessen our environmental footprint.
"Preparing this report has helped us clarify our vision for the future we want to craft," said Sustainability Manager Mackenzie Crigger. "Just as we do when creating packaging for our customers, we will tap into our expertise, curiosity, and ability to innovate as we work toward greater sustainability. We will continue to ask WHY to deliver the HOW."