Premier Packaging has a goal of being zero waste in all our manufacturing facilities by 2030. How is it possible to have no waste?
Zero waste means that we conserve all resources by means of responsible production, consumption, reuse, and recovery of products, packaging, and materials without burning and with no discharges to land, water, or air that threat the environment or human health.
To reduce our environmental impact and use natural resources wisely, Premier is committed to diverting 95% or more of our waste from landfills. We ascribe to the International Zero Waste Hierarchy of Highest and Best Use: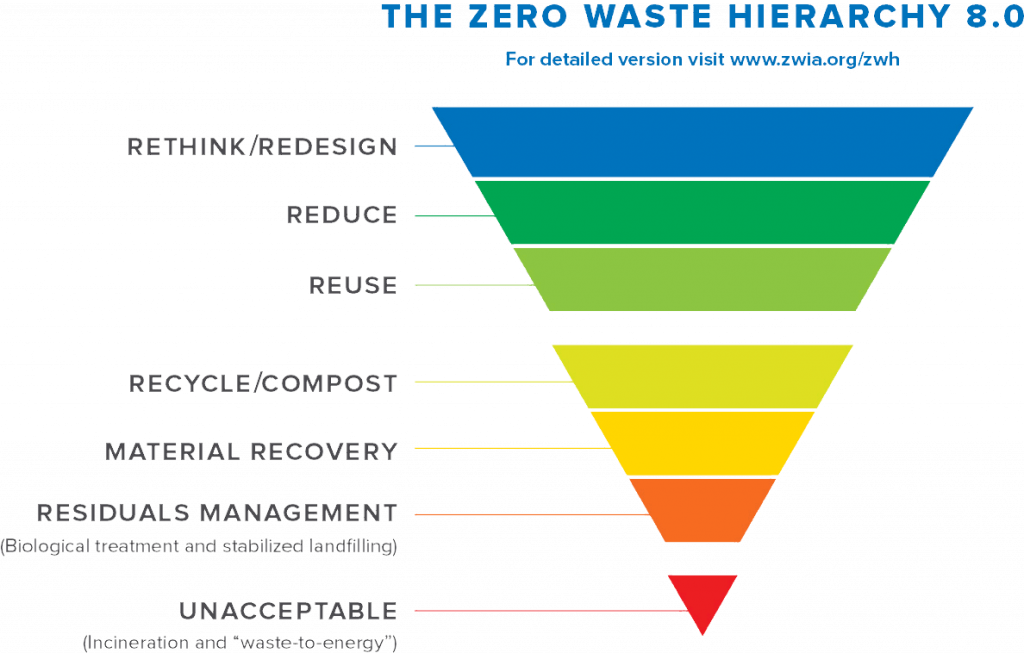 To that end, Premier is currently working toward zero waste in our plants in Louisville, Kentucky, and Indianapolis, Indiana. Our waste diversion plan starts at the source, with our design team working with our customers to design products from recycled, reused, renewable, sustainably harvested, or non-toxic materials. These products will be durable, repairable, reusable, fully recyclable or compostable, and easily disassembled. 
In addition, we will implement a Sustainable Purchasing Plan that minimizes quantity and toxicity of materials used; chooses easily and continuously recycled products with maximum usable lifespan and opportunities for reuse; and minimizes discards due to spoilage and non-consumption. "Rot" is also part of our strategy, with the development and sourcing of products that can be composted or will biodegrade. 
When a material cannot be recycled, repurposed, or eliminated from our business process, it is disposed of responsibly.  A small portion of our waste is currently sent to a landfill. This is primarily food waste, contaminated plastic strapping and film, and miscellaneous rubbish.  
Premier has made huge strides toward our goal of zero waste:
We already recycle 100% of corrugate, our main product.
We collect, bale, and send back into the recycling stream Double Lined Kraft (DLK) paper to be turned into future corrugate sheets that we re-purchase.
We recycle plastic stripping, film, glass, and metal through local vendors.
We invested in a foam "crusher" for our Louisville facility that compresses foam inserts for custom packaging into "logs" that are sent back to our supplier. Previously, the foam's light weight made it prohibitively expensive to send back for recycling.
We reuse ink on-site in our Indianapolis facility to reduce the amount of new ink we need to purchase and reduce waste generated by the printing process.
Our Accounting and Human Resource teams have completely removed paper from the system by digitizing and automating many of their processes to happen entirely online. 
Office supplies, reusable cups and flatware … Premier's zero waste list continues to grow. Consider: Premier uses pallets in our facilities that are then returned for reuse. By recycling these pallets, we have saved 16,498 trees and diverted 5,805 tons of "waste" from landfills in 2022 alone.
Premier's zero-waste strategy is good for business and good for our planet.